This running book comes highly recommended for its inspirational intensity.
Dean Karnazes has completed some wild feats. He has:
Run 50 marathons on 50 consecutive days in 50 states (2006)
Run 350 miles in 80.75 hours without sleep (2005)
Run a marathon to the South Pole without snowshoes (2002)
Earned eleven Western States 100 finisher's buckles in a twelve year period (1995-2006)
Won the 135 mile Badwater marathon (2004)
Basically, he is an absolute beast of endurance. Ultramarathon Man is a chance to learn Dean's incredible story & inspire your personal trail adventures.
Almost every chapter of his book left me raging with adrenaline.
I actually had to limit myself to 1 chapter a day plus 1 bonus chapter on each day that I ran. This was the only way I found to dissipate the intense energy of this book.
Over the 12 days, I was reading it I logged more than 80 training miles.
It's pretty hard to slack your way through a workout if you're reading the badassery of this book. Almost immediately after starting the book, I realized I wasn't pushing my training workouts hard enough. My 5k time was 21:37, which equates to 6:57 minute mile pace.
The second day of reading Ultramarathon Man, with the book as one of my primary motivators, I ran 9 miles in 71:18. This equates to a pace of 7:55 minute miles, and I did it at a near perfectly even pace: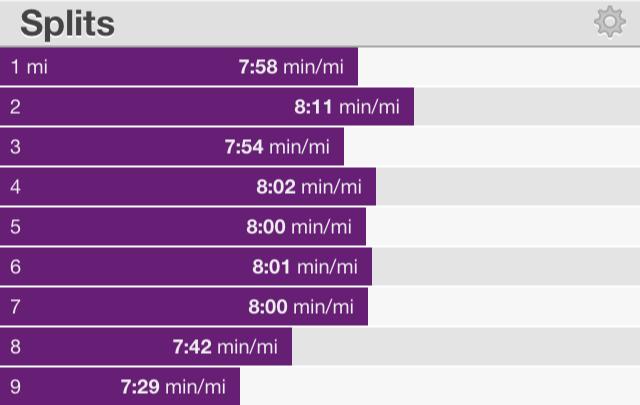 I know you're not reading this to hear about me. The important thing to take away is that reading Ultramarathon Man
was an intense motivation to my training efforts.
The real kick of motivation from this book comes from the story early in the book of Karnazes' "rebirth" to running. I won't spoil the details but I will tell you this: from the age of 15 to the age of 30 Karnazes was not a runner.
Let me repeat that, for the whole of his 20′s, he had lost his way from running. He built up his training base from his early 30′s and went on to accomplish all the crazy endurance feats highlighted above.
Karnazes is therefore a living testament that it's not too late to start your life's adventure.
Get out there and make it happen.
Brett
"If it comes easy, if it doesn't require extraordinary effort, you're not pushing hard enough: It's supposed to hurt like hell." – Dean Karnazes, Ultramarathon Man
Tags: Dean Karnazes marathon ultramarathon Ultrarunning