Hiking from sunrise to sunset is a powerful way for the outdoor lover to spend a day. Here is an account of a one such day hiking sunrise to sunset day on the AT ("live" from under my tarp at the end of the day). Enjoy!
23 June 2013
The Appalachian Trail
I broke camp well before sunrise — I was way too excited to sleep.
I was a mere three and a half miles from McAffe Knob, and, if I timed it right, I would be there to meet the sun. At 3:40am, I decided I was sick of the tossing-and-turning-game. I rolled up my sleeping mat and then my poncho that had been serving as my bedding. I reattached them to my pack, retied my shoe laces, and I was off.
In the pre-dawn, I cruised via moonlight. When the footing got rocky, I switched on my headlamp for the first time. As I walked, I watched the full moon gradually descend closer and closer to the horizon.
I stopped for water at a spring a few steps off the trail, and resumed my walk with full bottles. A little ways past this stop, just a moment before 5:15 am, I visibly noticed an "upstep" in the rate the world was lightening. I shut off my headlight again.
The forest around me faded ever so gradually into clearer view and with this lightening grew my excitement.
My pace quickened as I was more and more awake. As I drew closer to the summit, I could see though the trees a deeper and deeper red appearing in the sky. There was a wonderful feeling of anticipation.
I knew the peak colors of the sunrise were erupting overhead as I rounded the corner out into the knob. In seeing the sunrise, there was fulfillment.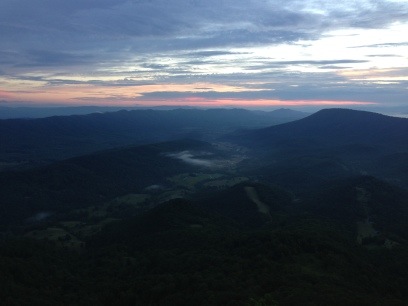 I lingered for close to thirty minutes to eat and enjoy the morning sun's transition. A sunrise changes rapidly in a matter of seconds. Every minute was a whole new experience.
By the time I was leaving the knob, the sun was nearly over the clouds and much more yellow and white lights were mixed with the oranges and pinks. The new lights created higher contrasts between the clouds and their shadow sides.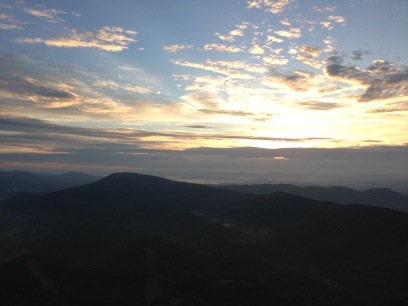 I headed further down the trail. I had a 5 mile up-and-down ridge walk that ended at Tinkers Cliffs. There was solitude but also some talk with a thru hiker headed the same direction.
The steep climb up to this next overlook was particularly satisfying. The view was of the same valley I had watched the sunrise over just hours before from McAffee Knob. I could see not only the valley from a new perspective but the ridge I had walked all morning and also McAffee Knob as a small grey speck on the other part of the valley.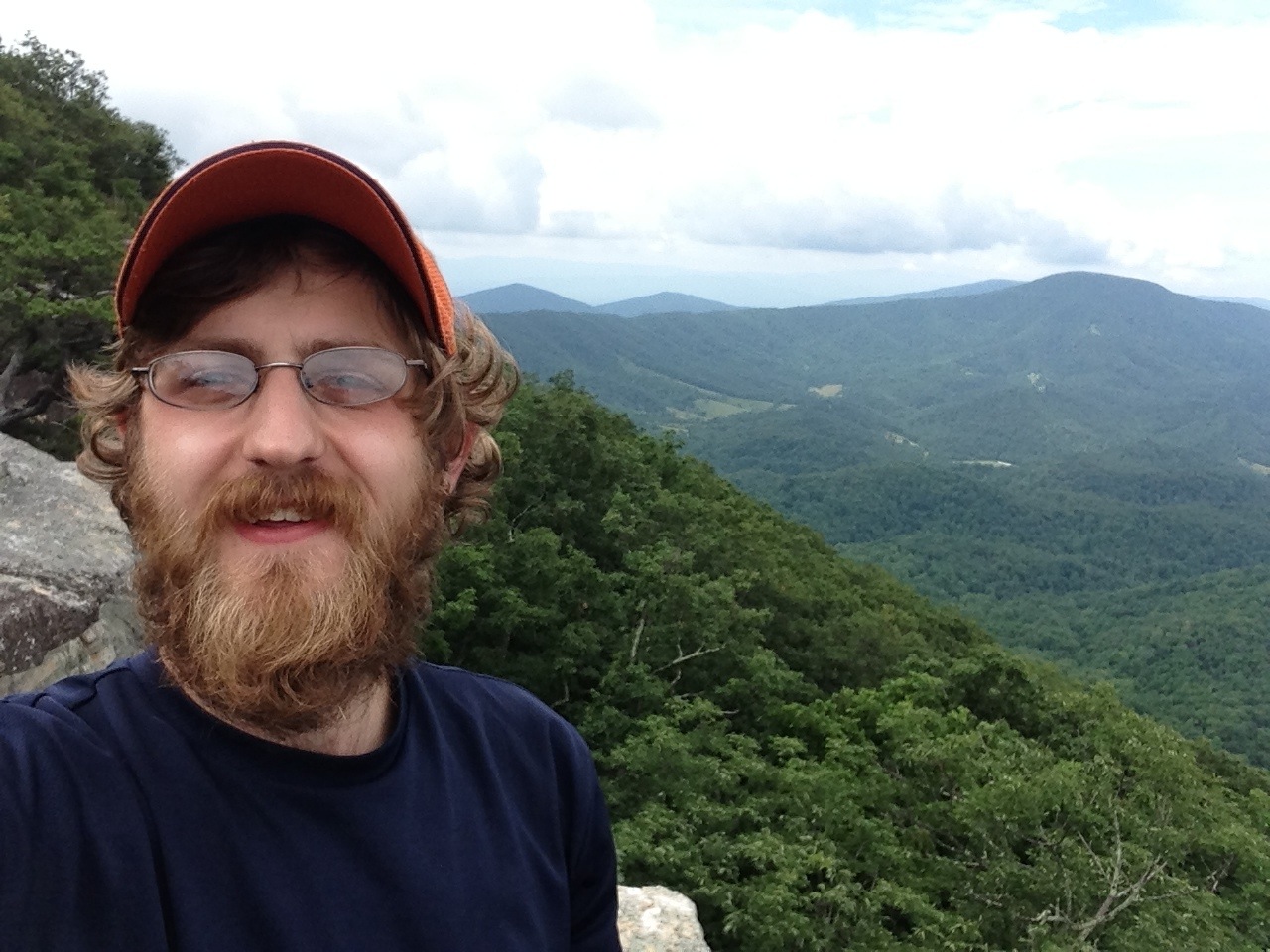 As I ate brunch (or lunch 1), I took in the old wind whipped pines lining the cliffs. Here they eek out a resilient existence. Their adaptability to the environment allows them to exist.
I pass down off he ridge once more for an 11 mile jaunt into Daleville/Troutville. I stop by a shelter for water and the day progresses.
There is no rush.
My day ends at sundown regardless of my location. I am free to pause yet motivated by the freedom to keep going. With views such as this, who wouldn't be motivated?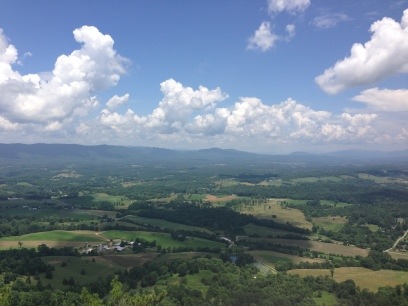 Having sparse sleep the night before, from time to time, I took a rest. Sprawled out on my rain poncho with my feet kicked up in my pack, I'd get a quick power nap before striking off again.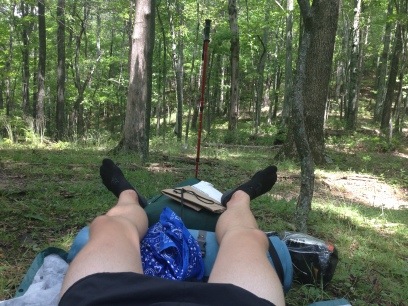 At phases the miles caught up to me.
As I headed down the 11 mile stretch from Tinkers Cliffs to the next road, there were only trivial landmarks. The nondescript nature of these landmarks caused me to mistake false landmarks for the true indicators of my distance covered. It was slightly depressing to realize my estimation of 2 miles remaining to the road crossing was based on false landmarks, and in reality I had closer to 5 miles to cover with only 4oz remaining in my canteen.
By being too focused on the future, I fell into the trap of thinking I was much further "ahead" than I had actually been. By failing to stay focused on the enjoyment of the present moment, I had given myself false anticipation. The bursting of this false anticipation reinforced the notion to just enjoy the walking.
Towards the end of this segment, there was another beautiful view back over Carrin Cove Lake to the back side of Tinkers Cliffs. Again, it was particularly rewarding to look across a valley and be able to visually trace my walking path from one end of a ridgeline to the other. This time it was the second generation of that feeling because I knew my walking path extended a second iteration beyond my current range of sight.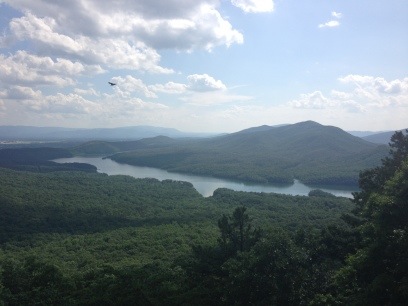 I made it down to the road crossing, where I bought a liter of water at the gas station a few yards from the trail. After unloading my trash, I set out from the store knowing daylight was nearing its close.
I stopped a few road crossings up at a creek to soak my feet while I ate dinner. How refreshing the crisp current felt on tired and burdened legs. After ample lingering, I pressed off to find sunset.
And find it I did. As I climbed with the trail to a top of a hill in a cow pasture, the day was coming to its ceremonious close. Just as I had in the morning, I witnessed the composition of the sky shift with every minute of this brief spectacular succession between day and night.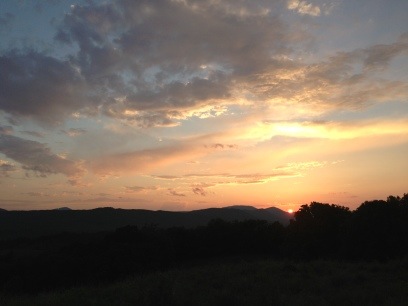 A half hour further down the trail from sunset, I set up camp. This day had been much more than 22 miles covered. It brought beauty, challenge, and contemplation.
This day had given me comparatively limitless time to think in an often far too busy world. There were hours upon hours between just myself and the views, which was a great change of pace. It was a calming and centering experience to hike for more than 17 hours from the course of pre-sunrise to just post-sunset.
You can cover a lot of ground, both physically and in the mind, over the course of 17 hours.
Tags: Story time